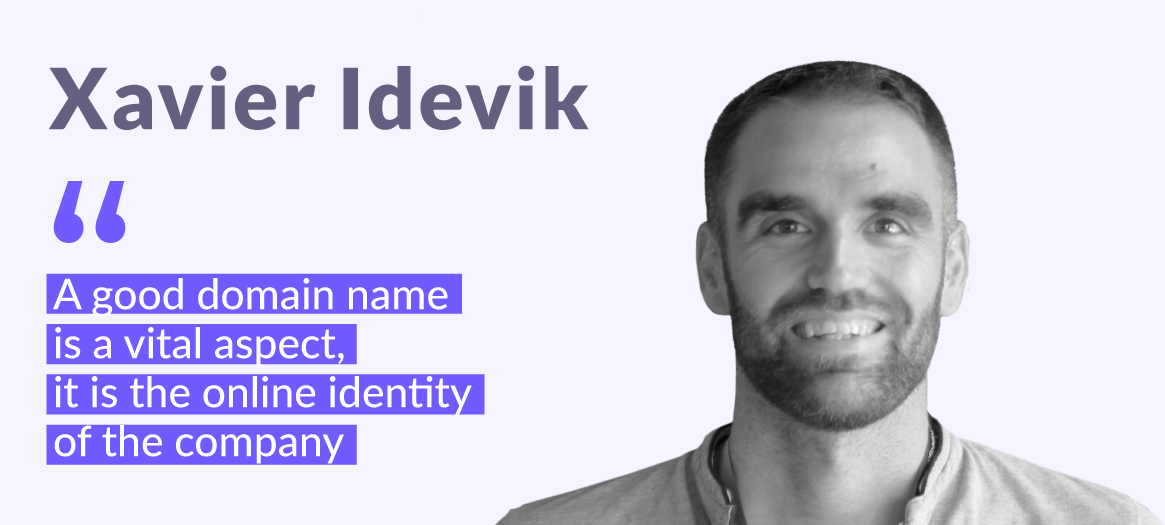 Interviews 3:45 Min read
Xavier Idevik (DonDominio): "Having a good domain is a vital aspect. It's the online identity of the company".
Xavier Idevik is a Digital Marketing and Business Intelligence expert, currently working as Manager of DonDominio's marketing department.
Marga Escandell Content Manager
---
Xavier has spent around 10 years in the world of domains. He started in 2011 as a support worker in DonDominio, having completed an IT diploma. During his time in this department, he balanced work with Marketing and Web Analysis training and studies, which allowed him to move from the Support department into Marketing. He is now Manager of this department, and his aim is to make the company a reference in the industry.
What differential value do you offer, compared with other similar companies?
The differential value is based on three key points: customer services, being easy to use and having prices without scams.
The customer services department is, or should be, a vital part of every company. For this reason, the support department is one of the most essential aspects of DonDominio. We understand the doubts and problems that may arise when registering or managing a domain for your website and email accounts, and for this reason, we have a highly-qualified, internally trained support team who work to reach the high level of professionalism which characterises us and which we want for our clients.
Regarding being easy to use, we have always opted for working on all developments internally. Among these are the domain management and hosting channel. This way we can adapt ourselves to clients' needs without depending on third parties, which has allowed us to create a unique management panel within the market from which we can manage one, or thousands of domains simply.
And finally, prices without scams. Unfortunately, in this sector we have many companies offering recruiting promotions at ridiculously low prices, even giving services for free, but they do not indicate or explain the renewal costs or commitment periods which are included. We have always thought that this type of action takes value away from the product, and for this reason we do not offer this type of recruitment promotions as though they were normal prices. We prefer to base our efforts on being well-known for our good reputation and not for initial low prices which will then rise by up to 3.000%.
If we analyse the three pillars together, we will see that since 2007 we have grown increasingly and continuously, now managing more than 400,000 domains for more than 160,000 clients.
What questions does a company need to ask itself before purchasing a domain?
The most important questions are as follows:
Is the domain that I want available on other extensions apart from .COM and .ES? It is important to consider this aspect because if we wish to register a domain which is already positioned with another extension, this can become confusing for those searching for us in the future, potentially taking visitors to a website which is not ours.
Do I wish to expand in the future? When we activate a domain in Spain, we recommend registering the domain in the extensions .COM y .ES as a minimum. However, if we already know that we are going to expand or if we wish to avoid having problems in the future, why not register the domain name with the extensions from other countries?
Do I want to use my brand name or a domain with key words? Firstly, if we have a brand or if we wish to establish ourselves as a brand, we always recommend a brand domain. However, if it is available, a number of key words related to the business can also be very beneficial. This can be used to create landing pages, blogs etc, and to redirect visits to the main page.
What is it important not to do?
When registering a domain, we always give advice about aspects to consider, which are basically based on trying to prevent the domain from being confusing when it has to be written down, remembered or spoken verbally.
These aspects shall be:
Do not register which contain special characters such as dashes.
Do not register domains which contain words that give double letters when joined together, such as, serviciossoldadura.com.
We must also always have the future in mind, and not register a domain which could limit us, for example, a blog with the name italianpasta.com, what would happen if we wanted to write about burgers in the future?
In general, do you believe that hotel companies pay the necessary attention to domains and hosting? Why?
Without being an expert in the hotel industry, I think that they do not give this as much thought as they should do. They could take advantage of it much more. For example, we see that the majority of hotel chains have the main domain of the chain registered, but they use sub-domains or subdirectories for the names of hotels instead of creating a domain for each individual hotel. If they did this, they could be much more versatile and they would have more web positioning options.
In addition, we have the use of new domain extensions such as .travel, .click, .online, .holidays, .trips… which could be used to make marketing campaigns stand out more. For example, on social networks we can use tuhotel.click to get people to click on the link, use .vacations or .trips for a specific promotion. There are many options which can make all the projects being worked on stand out.
What is important when choosing a good domain for a hotel company?
Just like for all companies, it is a vital aspect. It will be the online identity that the company has, and the core of all their digital presence.
What advantages and disadvantages does the extension .hotel have for the hotel industry?
Unfortunately, we do not have a lot of information about the domain extension .hotel, so we will have to wait for it to be launched officially to know how it works.
In any case, I believe that it could be a breath of fresh air, because many names which are already used with other extensions will be available on the extension .hotel.
What do you think hotels still need to do to their websites?
As in all sectors, you can have everything, from websites with very little that needs improving, to others which haven't been updated in years.
To make a specific topic stand out, I believe that it is essential for them to focus on booking processes and to add help services for current guests, as very often they are 'forgotten' when they are already customers and this is the moment to gain their loyalty and have the possibility to offer many more additional services to improve their experience.
If it is complicated to get customers in any business, gaining customers' loyalty in a sector such as the hotel industry is probably even more complex.
What are the next developments that you are working on?
We have the end of the year and all of 2021 full of ideas and projects to launch. Among these are a re-design and update of our own website, improvements to all hosting plans, system of member and new services to help customers once they have created their website, such as SEO tools, mailing, advert creation, etc.
---