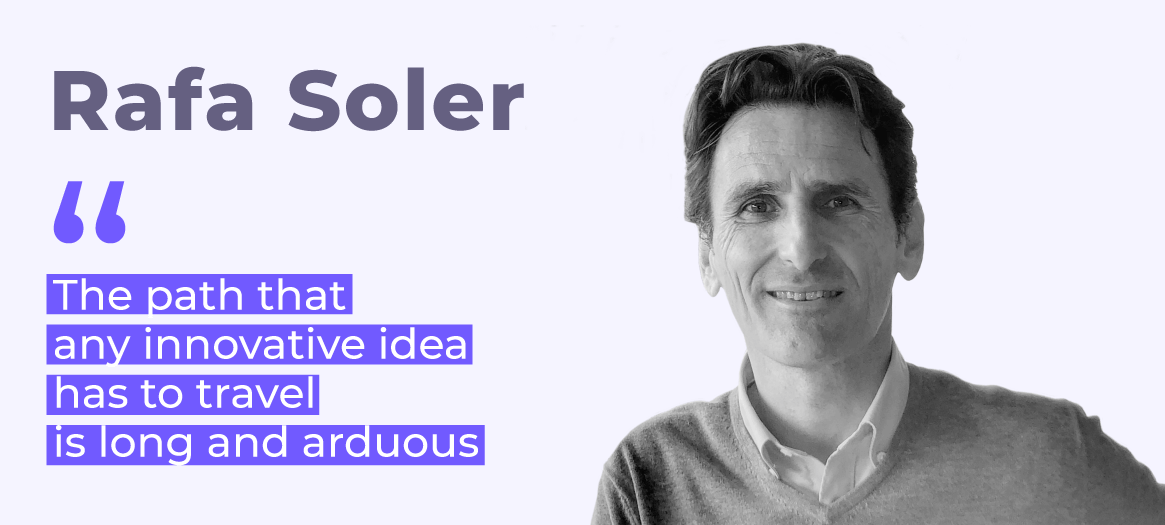 Interviews 4:00 Min read
Rafa Soler (Parc Bit): "The path that any innovative idea has to travel is long and arduous".
Rafa Soler has a degree in Business Science and more than 14 years' experience working with entrepreneurs and start-ups from the technology-based business incubator at Parc Bit.
Marga Escandell Content Manager
---
This incubator provides services and infrastructure to technology-based entrepreneurial projects managed by the Government of the Balearic Islands. He has also worked for 5 years as a consultant for the implementation of management software in hotel chains and distribution companies. He is currently an associate professor in the Faculty of Economics' Business Organisation department at the University of the Balearic Islands.
How would you evaluate the evolution of the Parc Bit incubator over the past 15 years?
Throughout the past 15 years, the technology-based entrepreneurial support programme at Parc Bit (#Emprenbit Programme) has worked with more than 250 entrepreneurial projects, with an average of 50 applications over the last 5 years. The programme, which involves a wide array of infrastructure and services for entrepreneurs at Parc Bit and Centre Bit Menorca, has consolidated its role as a key channel for providing Parc Bit with recently created companies that have the programme's innovative concept ingrained into the DNA of their business model.
Several of the benchmark companies currently operating from Parc Bit, and within the Regional Innovation System on the Balearic Islands for that matter, have been beneficiaries of the Emprenbit programme in some form or another. Some examples would be Habitissimo, Travelgate X, Travel Compositor and Laboratoris Sanifit, among others. These companies are a clear example of the crucial role that technology-based incubators play for these kinds of companies that have an initially high level of risk, but with an equally high level of growth potential for the region.
What do you think are the current opportunities and obstacles for entrepreneurs that didn't exist before?
Business opportunities within the ITC and Internet industries have been emerging at an exponential rate over the past ten years. New business patterns based on the latest marketing formulas, such as "Software as a Service" or the "Freemium" models, have allowed the vast majority of business models related to software development or services based on Technological Innovation to reinvent themselves.
The main obstacle on the Balearic Islands, that is growing along with technological advances, is the ability of small companies to access professionals qualified in areas related to technology and business. This is the main stumbling block that can get in the way of the successful launch of innovative entrepreneurial projects.
The business idea is also important of course, but being able to put together multidisciplinary teams of qualified professionals is currently a determining factor for the launch of an innovative product within our region. The insular lifestyle and the increased cost of living, paradoxically, act as both opportunities and obstacles for entrepreneurs and start-ups to access talent.
What are the most common mistakes that entrepreneurs usually make when launching?
Although the classic response that an entrepreneur may give to this question is access to financing, my opinion after more than 12 years of experience consulting technology-based entrepreneurs is that the main obstacle for the majority of projects that come through the #Emprenbit Programme, and that don't make it to the market, is selecting partners. Forming a balanced team, in terms of experience, technical capacity and motivation, is often the difference between failure or success for a technology-based entrepreneurial project.
The common tendency is to work with the people who are closest to us, such as friends, family members or classmates, those who we generally trust and have a close relationship with. But this does not guarantee that they will be the best partners to help us drive our project forward.
How successful a start-up is at attracting investment is directly linked to how capable they are at attracting talent to their promotional team.
Of course, the other major mistake is launching a product to the market without fully understanding your customer and their needs. This can lead you to invest time and effort into commercialising a product that the market "doesn't need".
How do you view the entrepreneurship ecosystem on the Balearic Islands, in Spain and in Europe?
There has been a great deal of effort made by the public administration to promote the creation of innovative companies on the Balearic Islands. Public assistance initiatives, such as calls for R&D projects or tax incentives for investing in start-ups (approved during the previous term of office), help to facilitate the creation of new companies with innovative solutions. If we compare ourselves to the other autonomous communities in Spain, it is clear that there is still a lot more that can be done in certain areas, such as public financial support for recently created companies in the "seed" stage.
In my opinion, we need to focus more on public financing instruments for analysing and investing in projects deemed as "risky" due to their innovative nature, but that, on the other hand, are aligned with the long-term RDI strategies that the related public bodies have defined. Aspects that are crucially important in the various regions, such as the environmental impact of climate change, the tourism industry becoming less dependant on seasonal factors or the revision of economic models, among others, cannot be tackled without entrepreneurs and small and medium-sized enterprises investing in new products and services based on technological innovation.
What entrepreneurial trends do you foresee over the coming years?
It is clear that we are about to witness a new wave of technology based on the implementation of 5G that, as we saw previously with the advent of the internet and smartphone technology, will open up a huge range of possibilities for reforming products and services, bringing with it new business models and inevitably an increase in innovative new companies. At the beginning of 2019 several new concepts burst onto the scene, such as Artificial Intelligence in the entrepreneurship ecosystem, which captures and analyses huge volumes of data and applies learning algorithms to it. Such concepts have begun to be employed within several key industries within the Balearic Islands, such as the Tourism and Environmental sectors, demonstrating that we will almost certainly be seeing the development of many business solutions within these fields over the coming years.
Would you say that the tourism industry is innovative when it comes to creating, promoting and marketing products?
In my opinion, the tourism industry, particularly intermediary and accommodation services, are facing a widespread technological challenge that will directly affect relationships with tourists within all of their various services (transport, accommodation or additional services).
Over the past decade, the emergence of new online distribution channels, such as OTA, GDS, CRS, Booking Engines or Infomediaries and Innomediaries are a good example of how technology is revolutionising the industry.
How do you see entrepreneurship in the tourism and hotel industry developing?
It is an industry based on a service economy in which both the quality of services provided and the loyalty of those demanding said services are becoming more and more valuable, so the direct relationship between the customer and the service provider has taken on vital importance. All those innovations aimed at improving the quality of service or at increasing customer loyalty will be successful within transport, accommodation, intermediary and additional services.
Obviously the most powerful tools for tackling these challenges are those related to the "Internet of Things" concept or to SaaS (Software as a Service) solutions. We actually have a number of similar projects with major growth potential at the Parc Bit incubator and at Centre Bit Menorca, such as Hotelinking, Electron, ModoSmart and HotelBreak.
What advice would you give to those entrepreneurs who are thinking about launching a company?
The most important thing that someone should bear in mind if they want to begin a new business project is that launching an innovative technology-based product or service to the market requires an immense dedication of both human and technical resources, in addition to the necessary capital.
Aside from this, it is also essential to acquire professional and business experience in an industry before considering developing any kind of innovation within this field. It is only after acquiring an in-depth understanding of all the different parties involved within an industry, and how they interact, that we can begin to come up with new business models related to said industry.
The path that any "innovative idea" has to travel to become an economically viable business model validated by the market is long and arduous, and an experienced promotional team, along with total dedication to the project, will make this journey that much shorter.
---