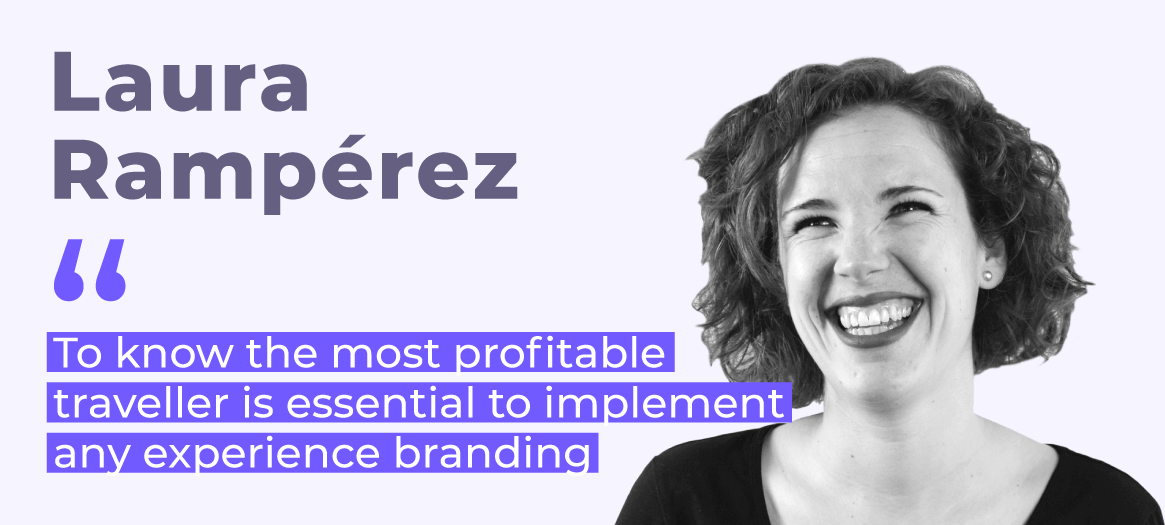 Interviews 5:00 Min read
Laura Rampérez (Inturea): "To know the most profitable traveller is essential to implement any experience branding".
Laura Rampérez is CEO and co-founder of Inturea, a project that she has led for 5 years and has become a reference for tourism brands.
Marga Escandell Content Manager
---
Laura Rampérez is the CEO and co-founder of Inturea, Strategic Agency for Tourism Marketing and Experience Branding. She has been leading this project for 5 years, and has become a provider of reference for tourism brands who wish to attract travellers who prioritise having unique experiences over price.
Thanks to her specialisation in the tourism industry, they have developed their own methodology to conceptualise, design, showcase and give life to brand experience in the context of travel trends and the interests of the most profitable travellers (which she calls 'Inspotourists').
Laura is one of those people who pays attention to small details, and dotes on Inturea as though it was her first-born child (which it kind of is, as her daughters Olivia and Cloe came along later). She comes alive every time she sees a new business opportunity or discovers a new application for her iPad Pro. An explosive combination between the body of an engineer and the soul of a businesswoman.
Inturea is defined as an experience branding agency for tourism. Can you tell us what experience branding is?
This is a term that we invented to give a name to everything that we have to work on to successfully develop a business in the travel industry: developing coherent brands which have a real impact on customers' experiences.
Because travellers are no longer motivated simply by a product or service which is comfortable or economic. They want to experience something which is unforgettable and unique. Something that they can describe to everyone they know, something that they can share on Instagram. And this is the reality, the challenge that all tourism brands are facing.
How can branding help to gain the loyalty of travellers?
For any business, there is nothing more important than understanding what the customer wants, right? Well, travellers want experiences, and to be significant on a market like ours which is so atomised and globalised, these experiences must be brand experiences. The tourism companies and resorts can no longer put off what the travellers are demanding.
The clearest benefit is connecting with a customer who is very profitable for a brand. Without a doubt, profitability leads to brand loyalty.
Is it harder to work on experience branding in the hotel industry than in any other sector?
On the contrary, it is easier. Let's say that it is the perfect combination: travellers have their 5 senses activated and a hotel has the best chance of seducing them.
In addition, many aspects can become unique experiences in a hotel: gastronomy, relaxation, exercise, the room's intimacy, the luxury of an infinity pool, the reception, the setting, the destination. There are unlimited opportunities to develop experience branding: before, during and after each stay. This way, we extend the relationship between each guest and the hotel brand.
What role does technology play in a traveller's experience?
Technology must be helpful and useful for a traveller. This is why we say that it plays a fundamental role, covering those expectations that humans are not able to satisfy.
Recently we have seen the use of technology for online check-in and check-out, digital health passports and how all hotel services can be managed with an app. At moments like these we are grateful for technology, as it contributes towards creating a better experience for the traveller.
What do you think is more important: working on a good marketing strategy or creating valuable experiences?
I firmly believe that both go hand in hand, and that they are closely related. We can't go wrong in either concept.
Developing a good marketing strategy allows us to surprise guests with unforgettable experiences. But attracting guests to my tourism business with dream campaigns is useless if they then go on to have an average experience.
It is also the same the other way round. We understand 'marketing strategy' as a whole concept: customer service, incident management, services, etc. My guest can have an incredible experience in my hotel, but if I am not able to tie up small details, I will have wasted my efforts.
What changes have you seen in branding and marketing campaigns for tourism brands due to the pandemic? Can you give us a specific example?
They are closer, more transparent, they are equals and there is no turning back. Some brands have worked out how to get on the right side of their clients and their team. These are the ones who have done the best branding campaigns.
Many brands which have always maintained a more corporate line have suddenly opened up to be as honest as possible regarding crisis management, the implementation of health protocols and their employees' day to day tasks.
I can give several examples of such brands: Meliá Hotels International, ARTIEM Hotels and Concept Hotels, among others.
In this context, Inturea has promoted the initiative "Tourism shock plan". How has the experience been?
Very enriching. It has supposed a brutal learning process and a real challenge. Our main objective has always been to offer 360o vision of what is going on in the industry, and being able to give a voice to everyone who is directly or indirectly related to tourism.
We have now completed over 70 interviews with the most relevant agents, and even so, we are still learning every day and discovering new things.
How do you believe the virus will affect branding strategies?
More than the actual virus, it will affect safety. Inturea recently launched a study on how travellers will act post-COVID-19, and one of the most clearly remarkable factors is how travellers will take out travel insurance.
At the end of the day, this is a really important insight for brands. We have to incorporate aspects which empathise with our customers into our branding strategies. In this case, it's the traveller's sense of safety. We want to feel at ease when we travel, and to have a plan B to minimise the impact of any incidents which may arise.
What do you think will be the greatest challenge that tourism brands will face in the next few years?
The greatest challenge will still be having an impact on customers. To do this, we have to work introspectively and analytically to understand who they are, what their concerns and needs are and what they expect from our brand.
It is not just an issue of the current situation, that we understand more in the short term. We now have to follow a strategic line in the future. We are doing many things now that will be of use to us beyond the pandemic. Investments and efforts made now will strengthen our brand in the future.
What advice would you give to companies that wish to work on their experience branding at this time?
All good experience branding for tourism must be based on two pillars:
Ideal traveller
Brand concept
The starting point to implement any experience branding work is to be very, very sure of who the most profitable traveller will be for the brand in the long term. Reflect thoroughly on who this is, what they want, what they are looking for, what they are interested in, and how they travel, etc.
The brand concept is the identity that we wish to give the experience, which will help us to position ourselves and stand out on our market.
---