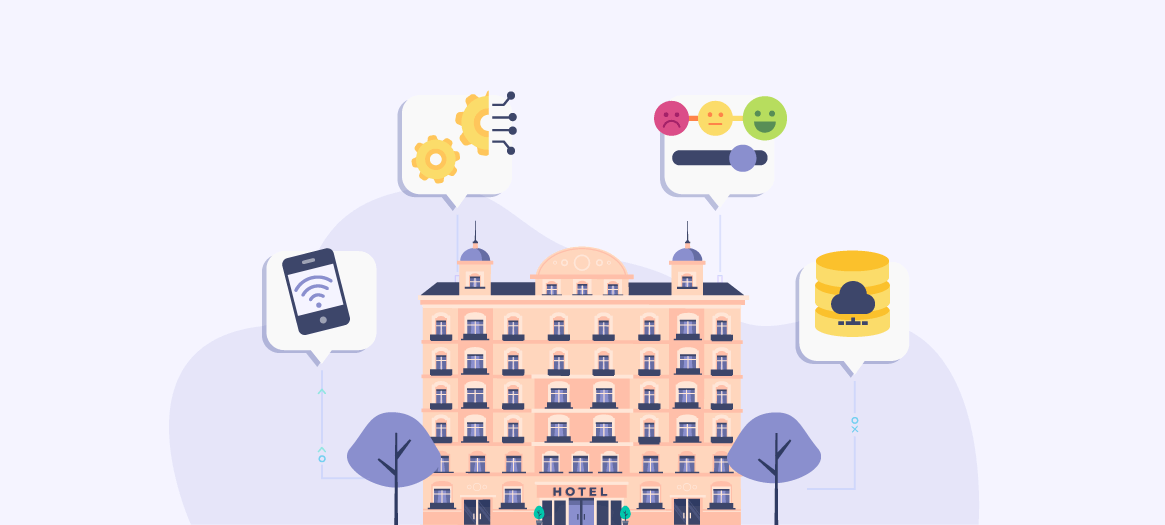 Marketing 5:00 Min read
Which technology will hotels need in the new post-coronavirus era?
Once the state of alarm has finished and borders have been opened among autonomous communities and to foreigners, holidays seem to be a step closer.
Marga Escandell Content Manager
---
Many hoteliers expect to open their hotels with normality; some of them will this season, and others are expected to do so in 2021.
Many hotel chains are eagerly working with to get their properties ready and to ensure, one more summer, unforgettable experiences. For example, one of the areas they have worked on the most is their protocols and safety and hygiene measures.
However, due to the new social distancing and capacity reduction measures, these are not the only measures properties need to implement; other changes related to organisation, staff and internal processes need to be made, restructuring services and spaces.
The new normality is going to change hotel basics in the short, mid and very likely long term.
The key, now more than ever, is transforming current challenges into opportunities.
Hotels must adapt themselves, quickly, to the new circumstances, looking for ways to attract demand without losing profitability.
For this, digitalisation is currently a must to guarantee the safety of guests and employees alike; we must deal more efficiently with any upcoming changes while adding value to the experience.
Which tools can be useful to hoteliers at this stage?
Direct-sale tools
Right now, with so much uncertainty, it is essential to keep customers informed and, most of all, to generate trust to encourage them to book with flexibility and safety. It is essential to communicate openly the measures that are being implemented, in all channels possible.
In this context, you may think that customers are seeking, more than ever, direct contact with the hotel, hence it is an excellent opportunity to boost direct bookings. This is why optimising the direct channel is crucial. You must not neglect the website and must invest time and effort to keep it updated and improve it so that visitors end up booking. It is the time to ensure that the website is oriented to conversion, with calls to action, striking images, an efficient booking engine, intuitive browsing and differentiating elements that turn visits into reservations.
There are loyalty and sales tools such as the online interaction assistants or chatbots, that make it possible to automate the service and efficiently solve doubts. Many hotels even have a live chat on their websites that enable the hotel to chat, in real-time, with customers visiting their web. These tools improve the online booking experience and encourage direct sales. Still, to ensure success, it must be appropriately configured and it must be updated every month with new questions or correcting current ones.
Also, there are other types of virtual assistants that require fewer setups and time while also encouraging direct sales. They do not focus on generating a conversation but on encouraging users visiting the web to book through it offering the possibility of benefitting from an offer and adding a series of advantages to their booking without paying more for it.
In this way, the potential customer enjoys a series of extra benefits that they will not find in other webs and OTAs and the hotel obtains bookings through its own channel hence saving third-party commissions, standing out from the competitors and offering the customer an added value.
Tools for the check-in process
The coronavirus crisis has brought along a series of safety, capacity and social distancing measures that have highlighted the urgent digital transformation in hotels, fundamental in this new normality. And one of the areas where this digitalisation is the most necessary is the front desk to speed up guest check-ins and avoid crowds.
The check-in process at the front desk usually is a manual, scarcely digitalised process that tends to generate waiting queues and is uncomfortable for guests. Also, kiosks and totems solve part of the problem but still generate queues and do not allow simultaneous check-ins.
A solution that enables to control capacity, reduce waiting times and minimise the contact among guests and employees while improving the productivity of front desk associates is the online check-in. This system enables guests to check-in a few days prior to their stay on the hotel website or upon arrival to the hotel from the WiFi, with no need to download an app. There are advanced platforms that even enable guests with bookings made through TTOO and OTAs to online pre check-in from the hotel website.
Customers themselves can complete registration with no assistance because it is straightforward and intuitive, with no need to fill in papers and in the absence of a receptionist. They only need to follow the steps indicated to check-in and get their key. Also, these systems can integrate communications via SMS to encourage direct contact between the guest and the hotel and boost loyalty.
This optimisation of the check-in process enables to significantly lighten the workload at the reception, eliminating tasks that do not add a key value. And, most of all, it facilitates social distancing, protecting the health of both associates and guests.
Tools for loyalty and the improvement of reputation
The social isolation from a few months ago and this current situation of uncertainty not only have changed our everyday habits but also our social and consumption behaviours. Companies must be aware of this and must face the challenge of adapting to the new expectations of their customers to strengthen their relationships while trying to keep the profitability levels.
In this new normality, empathy and closeness to the customer will be rewarded more than ever as well as the flexibility to adapt quickly to new situations and needs. This is why now more than ever we must ensure that the guest has an excellent experience to convey safety and tighten the bond with the brand. But also due to their prescription power: travellers believe in other travellers' comments as much as if they were personal recommendations and in this context, they are going to be very important because they will make them feel more trust.
Hence, once guests have enjoyed their stay, they must be actively encouraged to recommend the property, for example, with an email that includes a link to an opinion portal (such as Tripadvisor, Holiday Check or Zoover) so that they leave their opinion on these webs.
Thanks to the mailing of emails like this, a hotel can receive a constant flow of positive opinions, increase the number of reviews and be in the first positions. This will also contribute towards increasing their reservations due to the trust that an accommodation with positive traveller reviews generates.
As you can see, guest opinions can make the difference for a hotel. However, to encourage these positive opinions it is essential to know the level of guest satisfaction during their stay to solve potential incidences and improve even more their experience. For this, satisfaction surveys during the stay make it possible to identify unhappy guests and address any potential incidences promptly. By doing so, we can stop negative opinions that may instead turn into positive ones because, when an undesired situation is solved, a customer is two times happy.
---