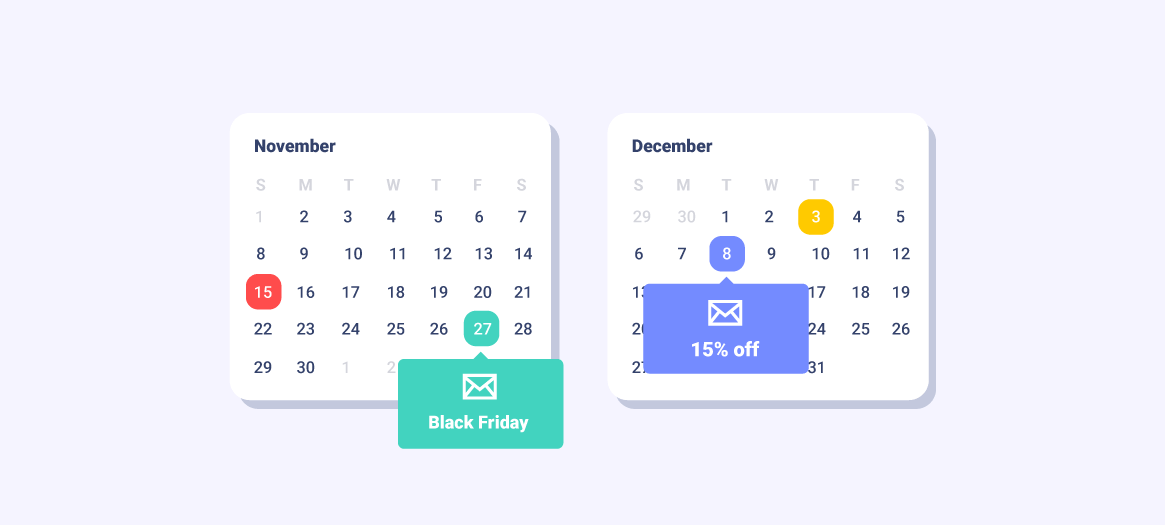 Marketing 2:30 Min read
Email Marketing Guide: How to plan email campaigns for the hotel sector from scratch. (I)
One of the keys to succeed with your email marketing campaigns is planning what you want to communicate.
Marga Escandell Content Manager
---
In the previous article, we discussed why, when it comes to email marketing, the subject is critical from a strategic point of view. If we also add good campaign planning, it is possible to obtain fantastic results
However, when a hotelier faces the annual email marketing planning for the first time, it can certainly be a challenge.
Annual planning involves a whole series of strategies, which at first glance may seem simple; but the truth is that the degree of complexity can become overwhelming. There are endless campaigns to be sent, designs, promotions must be aligned with the booking engine, results must be measured, A/B testing performed and much more.
Good planning enables to match appropriately the resources available to the number of campaigns to be sent throughout the year.
Additionally, planning email marketing on an annual basis makes it possible to:
Define times and frequency and adjust them to the type of audience of the specific hotel brand.
Concentrate the design and production work in a few months, programming future mailings based on the annual planning.
Improve the quality of each campaign's content.
Focus the efforts on analysing results and making the corresponding improvements for the following year.
To follow, we present a series of campaigns that may serve as an inspiration for the annual planning of a hotel brand. It is estimated that the hotel brand generates hotel data automatically with a professional tool and that the email marketing tool can easily segment the database per fields of interest at each time.
In these charts, we present just a few examples that may be useful, but obviously, there are many more.
1. INSPIRATION OF CAMPAIGNS BASED ON PROMOTIONS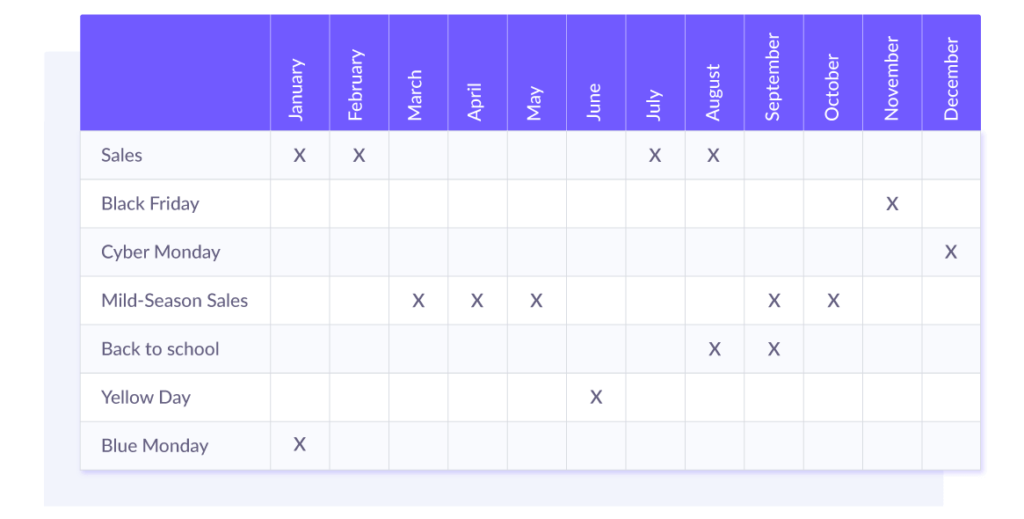 2. INSPIRATION OF CAMPAIGNS BASED ON GREETINGS, BANK HOLIDAYS AND WORLDWIDE EVENTS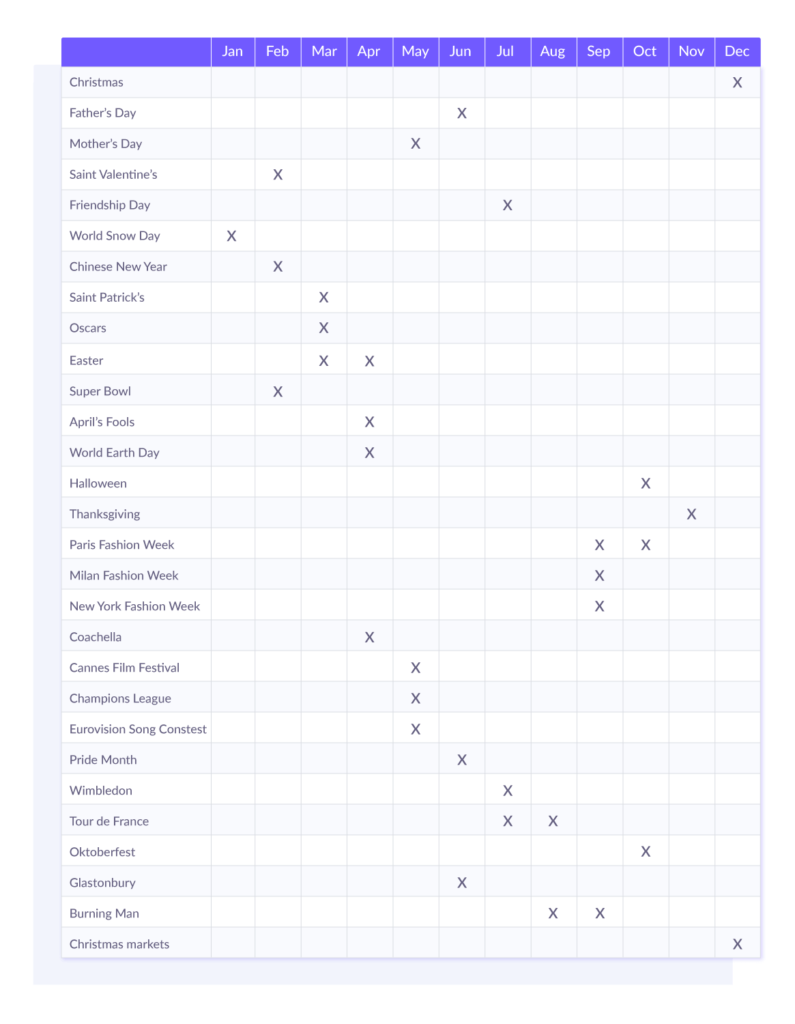 3. INSPIRATION OF CAMPAIGNS BASED ON GREETINGS, BANK HOLIDAYS AND LOCAL EVENTS (in Spain)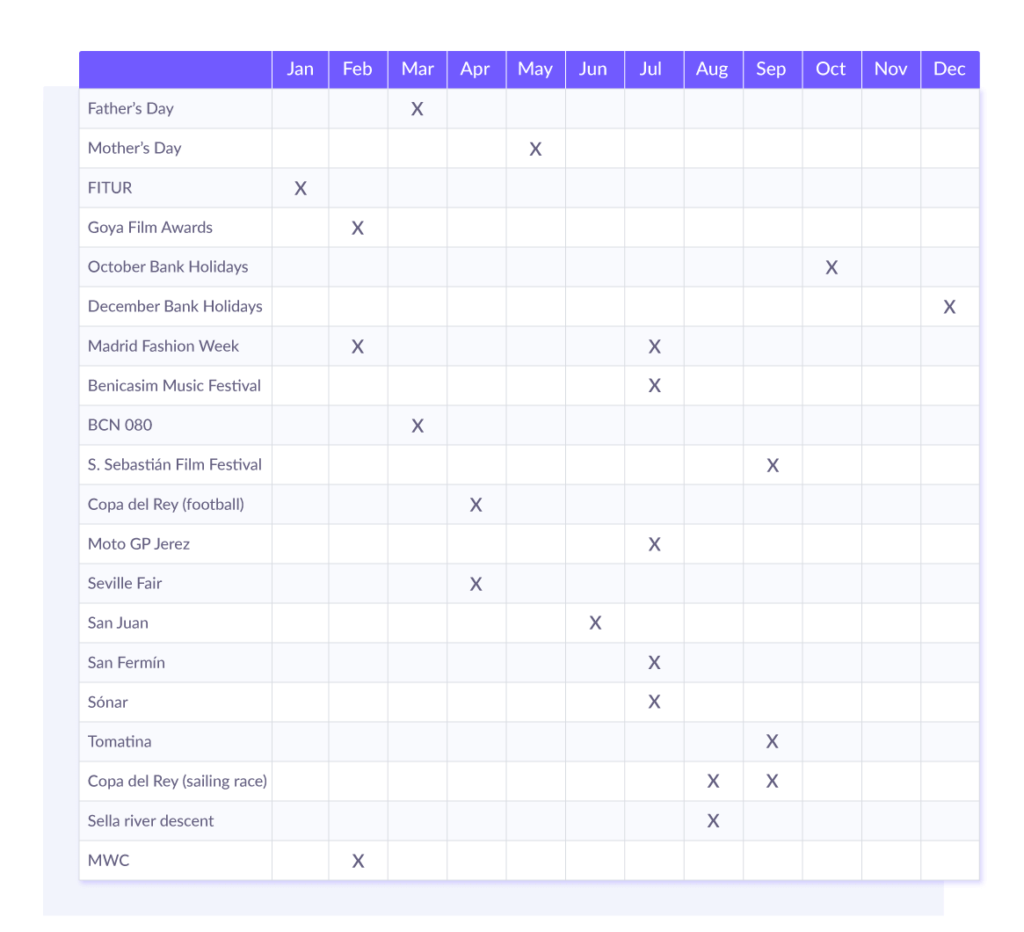 4. INSPIRATION OF CAMPAIGNS BASED ON THE HOTEL BRAND'S SPECIFICS
Hotel brands have the opportunity to create a whole range of email marketing campaigns highlighting their unique features to catch the attention of their customers: destination, category, type of traveller, brand identity, family-oriented, sports, sun and beach, mountain… but it is fundamental to adapt the email marketing strategy to the current situation, to be flexible, redirect quotes to other markets, offer different added values, etc. And all of this without losing the interest of your contacts, with effective emails that boost engagement.
>> To help you to start planning your email marketing strategy, in our next article we explain some areas from which you can develop specific campaigns as an inspiration.
---