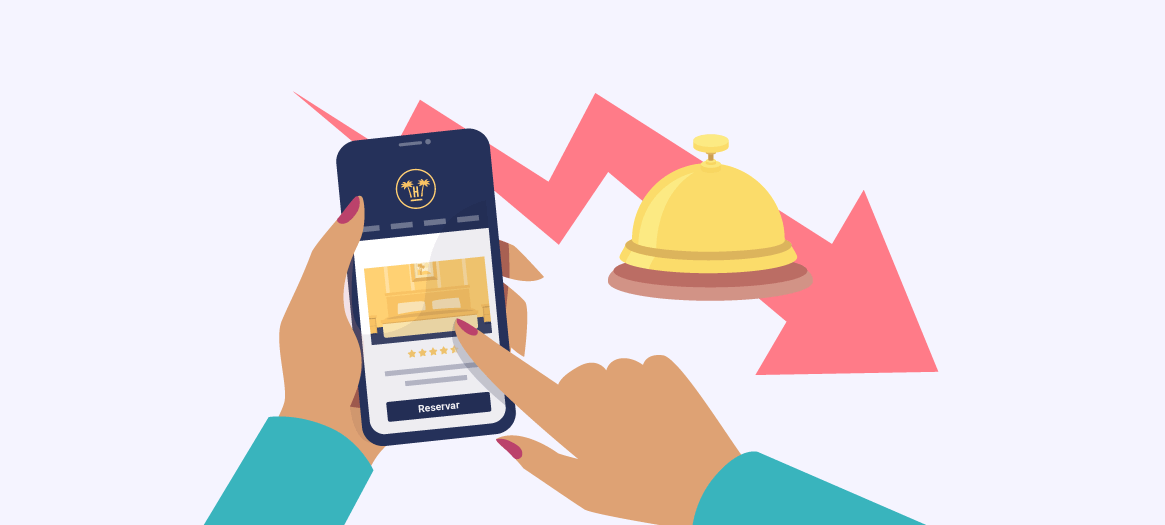 Marketing 4:00 Min read
How to attract guests to your hotel when bookings drop?
New technologies offer new possibilities to gain more visibility, recover customers and attract new ones.
Tomeu Fiol Marketing Manager de Hotelinking
---
Having no vacancies is the dream of any hotelier. However, the reality is quite different: competition is very high in this sector and it is vital to have a good knowledge of the guest today more than ever to delight and retain them.
New technologies offer new channels and ways to gain more visibility and interact with potential customers at a much lower cost. And therefore, it is advisable to carry out marketing actions to take full advantage of the opportunities offered by the online environment, recovering customers and attracting new ones.
1. Send personalised email marketing campaigns.
Any hotel wanting to follow the market's pace has a hotel CRM that they use to consolidate and manage their guests' data. And, often, hotels use their CRM to automate the bulk submission of sales emails.
Nevertheless, it has been proved that in the last few years, the segmentation of contact lists and the personalisation of emails is more effective: using the information stored about guests makes it possible to create groups and personalise emails, adjusting the message to their interests and needs so that contacts are more interested in the content that the hotel creates.
It is possible to use email marketing to attract more guests. How can we do so? Using this information to identify opportunities in order to draw the attention of your segments of interest. You can identify segments of guests who are more interested in quieter holidays, avoiding big tourism epicentres. Or even guests interested in new holiday proposals beyond those offered by high hotel season.
Once you identify opportunities to attract guests, launch email campaigns aimed at offering information or promotions about your property during low season. The more personalised and segmented the email is, the more it will draw the attention of your CRM's contacts.
Remember that there are different channels and tools through which you can consolidate a quality database, in other words, with qualitative information about your guests. This information will enable you to rule out the mailing to guests who have already booked and focus on those you would like to remember about your hotel brand.
2. Allow last-minute direct sales.
Travellers usually book months in advance. But there always are a number of potential guests that, when having a couple of days off, quickly want to plan weekend breaks, either romantic, with family or friends.
This is a popular plan for those who want to make the most of bank holidays to take short and economical trips. But very often, travellers encounter reservation channels which do not allow last-minute sales or to make changes prior to the arrival to the hotel.
Another possibility to attract more customers to the hotel is enabling direct sales through your hotel web's booking engine. This will make it possible for guests to easily plan a weekend break while creating an opportunity to get direct reservations in your hotel and therefore avoiding third-party commissions.
Moreover, to promote direct reservations, you may use reminders on your website – such as online assistants – so that every person visiting your web is reminded about the advantages or so that the booking is always confirmed. In other cases, it is possible to make the most of these virtual assistants to offer special gifts when making a direct reservation – for example, a welcome amenity.
3. Hold events on your social media.
Very often, hotels choose to offer discounts or special promotions to keep their target audience interested. These are normally launched through social media, and can also be promoted with pop-ups in the hotel website.
However, offers or discounts are not the only methods to keep your audience engaged. One of the most interesting online marketing methods is the interaction of users with the hotel brand. Users love to share their holiday experience, to share pictures or videos, but also to take part in special events on their favourite hotel's social media channels.
These events may be draws inviting followers to participate, but instead of just rewarding them with complimentary stays of special offers, you can offer special gifts or experiences during their stay. For example, draws in which the winner gets to take part in events inside the hotel during special seasons – such as Christmas.
Another way to launch special promotions is by inviting guests to try new experiences offered by the hotel. For example, some properties offer activities related to those guests like excursions, cultural visits, etc.
Instead of going for strategies that mean more losses than benefits, it is beneficial to interact with your guests and unveil the many advantages of visiting your hotel any time of the year.
Turn your social media actions into opportunities to create a loyalty system in your hotel.
4. Offer content of value for your followers.
Content is key for any online marketing strategy. It attracts new potential guests and also keeps already-existing guests interested. But which sort of content can be created to attract customers?
It is possible to use your knowledge about your guests to plan which contents to publish. What sort of leisure activities do they prefer? Are your guests seeking new kinds of holidays?
Very often, we see how in order to attract customers, we choose to inform the audience about leisure proposals in the destination where the property is located. That is, which activities travellers may enjoy in the destination any season to help to attract guests all year round.
These points of interest may be places, cultural activities, gastronomic offers or even local festivities unknown to the target audience, since many travellers choose the destination due to its more popular points of interest.
5. Launch campaigns optimised with your customers' data.
All previously mentioned actions may become part of marketing campaigns aimed at getting more bookings. But, for these to be truly effective, it is very important to consider what the customers find interesting; hence, it is crucial to analyse guest data, that is, to compile the Hotel Data, the universe of customer data that will allow us to have a great knowledge of demographic and transactional factors.
Thanks to the technological tools designed for hotels, it is possible to create databases where we can save all this kind of information: not only guest contact details but also their hobbies, consumption habits, their preferences when staying in the hotel, etc.
But to obtain this useful data for your marketing strategies, it is important to verify it and that it meets data protection regulations. This is possible thanks to systems such as Social WiFi: a technology that captures guest data when they login to the WiFi network, to subsequently generate personalised email marketing campaigns.
By doing so, you can have a verified database that you can activate for your email marketing campaigns, allowing you to be much more effective by having real guest information.
---